The following guest post is from our Best Damn Ambassador, Nanci Cernak. You can follow her blog at This Crazy Life of Mine.  
---
If you are a future marathoner (like me!) or have run one or a few before, I think there are several important tips to remember when training. I am currently halfway through my 18 weeks of training and I feel like I've already learned so much. These are my top 8 tips for marathon training.
1. Find the right training plan
There are so many training plans available online and in books. Decide how many weeks you want to train, decide what your goals are, and how often you want to run each week. I went with a Hal Higdon plan after successfully using one of his half-marathon training plans last year. My friend Beth, helped me decide between two different ones. My goal for this marathon, my first full ever, is to finish. I also knew that I wanted to run 4 days a week. Knowing all this will help you narrow down the many training plans available and find one that works for you. Also, you can modify a plan if needed. Make it work for you.
2. Find support along the way
This one is huge. HUGE. I cannot imagine doing this alone and without support. My husband of course is my biggest supporter as he gets up and runs with me because he doesn't like the thought of me running alone on those very dark and early mornings. I am also very fortunate to have several running friends to cheer me on and train with me. My mom and family are also supportive. All of this really helps, more than anyone may realize.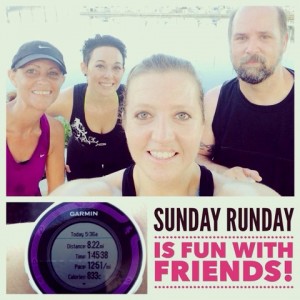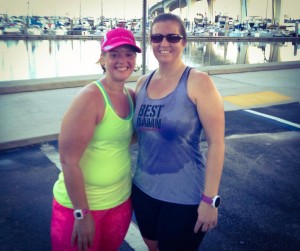 3. Find the right fuel
There are so many different fuels available. Gels, chews, chomps, wafers, and more. Training is so much more than just running, it's also about finding what works for your body – especially on the long runs. You want to know what will work for you come race day. I prefer GU Gels, Stinger Organic Chews, and Sports Beans. None of these cause any stomach issues for me and they are easy for me to digest. The same goes for hydration – find what works for you and train with it.
4.  Stretch, stretch, stretch
I can be bad about this one. We usually stretch as soon as we are done, but I should really have a foam roller or stick to really work my legs out. If you aren't sure which stretches to do, you can easily Google them. It's important to stretch your hamstrings, quadriceps, and calves. Your legs and feet really take a beating when you run and they need to be stretched. PiYo and yoga are also wonderful for this.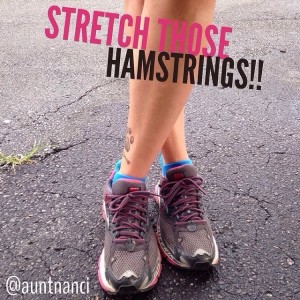 5.  Invest in the right shoes
Your shoes are probably the biggest investment you will make in running, as well as the most important. If you are in the wrong shoes, you will be in pain and uncomfortable. Go to your local running store for a gait analysis and have the staff recommend shoes for YOU, for your particular gait, and how you run. I didn't have this done until several months into really running and I wish I had done it sooner. I was in the wrong shoe and my feet hurt all the time. Being in the right shoe makes all the difference in the world. For my marathon training, I have two pairs of the same shoes and I alternate, wearing one pair for shorter runs, and the other for long runs. You will put many many  miles on your shoes during your training and your feet with thank you.
6.  Get plenty of sleep
Marathon training is exhausting, there's no way around it. Add it to the mix of your regular life, your job, family, and more, and you are going to be more tired than usual. It's important to get plenty of sleep and go to bed at an early time. It's not uncommon for me to go to be in bed by 8:30 on any given night just because I am exhausted.
7.  Rest days are just as important as running
Rest days are for your body to recover from all the miles you run. Your muscles use this rest as a time to rebuild. It is also very important for preventing injuries. If you feel like you need an extra rest day, or need to move your days around to allow for a rest day, than you absolutely should. Your body is telling you something and will thank you for the rest. An extra day of rest can make all the difference in the world.
8.  Enjoy your training
Running a marathon is a big deal and it is hard work. But it's important to have fun and enjoy your training. Running with others helps so much with this. Take time to enjoy the scenery and remember how amazing you are for deciding to tackle such a distance.
Do you have a tip you'd like to share?