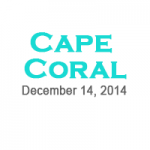 Safety Harbor, Florida, April 1, 2014 — The Best Damn Race (BDR) is coming to Cape Coral in December 2014. Race Organizer, Nick Zivolich, is expanding the race series to a third market and introducing the full marathon, a first for the BDR series. In addition to the full marathon, Best Damn Race Cape Coral will feature a half marathon and a 5K. In keeping with the BDR registration roll-out, participants have the opportunity to register for $1 dollar.
"Wow! What a beautiful venue. Cape Harbour has welcomed us with open arms and we can't thank them enough for allowing us to throw a running party at their place," said Zivolich. Cape Harbour is a yachting community located on Florida's pristine southern Gulf Coast in Cape Coral.
BDR is again buying the race photos for anyone who registers during the first week of open registration (4/15/14 thru 4/21/14).
"People love their race photos but hate paying $60 for them. For everyone who registers for BDR Cape Coral 2014 within the first week, I'm going to pay for their race photos," said Zivolich.
The $59.99 Digital Download package from J Ryan Photography includes a download of all digital photos that are captured of runners.
BDR's 2nd annual Safety Harbor race exceeded 4,500 registrants and sold out. BDR's inaugural Orlando race exceeded 2,700 registrants.
BDR is limiting the size of each race to provide a quality race experience. Each distance (marathon, half marathon, and 5K) will be limited to 1,500 registrations.
To ensure a spot in BDR Cape Coral 2014 and get free race photos make sure to register promptly at 12pm EST on Tuesday April 15, 2014.
For more information visit http://capecoral.bestdamnrace.com.
If you are interested in becoming a sponsor please contact Nick Zivolich via the contact form at the top right of http://capecoral.bestdamnrace.com.
Contact:
Nick Zivolich, CEO
Best Damn Race, LLC