Safety Harbor, FL – Autism Speaks has been chosen as the charity partner for the 3rd Annual Best Damn Race Safety Harbor on February 7th 2015.
"The Autism Speaks is honored to be the Best Damn Race's charity partner," says Manager of Field Development, Katy Formella. "This partnership not only helps to foster autism awareness here in the Tampa Bay area, but also allows us to raise critically needed money to fund vital research that will lead us to the answers we need and programs that will make today a better day for the millions of people affected by autism spectrum disorders."
"This is our 2nd opportunity help raise awareness for autism. We created a great partnership with the Autism Society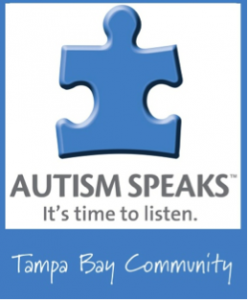 of Greater Orlando for our Orlando Race over the past year and I wanted to do the same for our Safety Harbor race", said Nick Zivolich,
"Our aid station volunteers will be members of Autism Speaks and individuals with autism from the Tampa Bay community. This is an opportunity for individuals on the spectrum to learn valuable work and social skills."
Autism Speaks goal is to change the future for all who struggle with autism spectrum disorders. Autism Speaks is dedicated to funding global biomedical research into the causes, prevention, treatments and a possible cure for autism. We strive to raise public awareness about autism and its effects on individuals, families, and society: and we work to bring hope to all who deal with the hardships of this disorder. We are committed to raising the funds necessary to support these goals.
Autism Speaks aims to bring the autism community together as one strong voice to urge the government and private sector to listen to our concerns and take action to address this urgent global health crisis. It is our firm belief that, working together, we will find the missing pieces of the puzzle.
About Autism
Autism is a general term used to describe a group of complex developmental brain disorders – autism spectrum disorders – caused by a combination of genes and environmental influences. These disorders are characterized, in varying degrees, by communication difficulties, social and behavioral challenges, as well as repetitive behaviors. An estimated one in 68 children in the U.S. is on the autism spectrum.
Additional information can be found at www.autismspeaks.org
You can also make a donation at https://fundraise.autismspeaks.org/Markslist/url/bestdamnracedonations3256