The following guest post is from our Best Damn Ambassador, Beth Shaw. You can follow her personal blog at Discom-BOB-ulated Running. This weekend she will be racing IRONMAN Chattanooga. We wish her luck and can't wait to call her an IRONMAN!
---
I run a lot of races annually. I mean, a lot, a lot. And I am always so grateful for volunteers who get up just as early, if not earlier, than I do to help put on these events. These folks typically leave without a shirt and a medal but deserve just as much respect as the athletes. They may not be completing the race, but without them, there'd be no race. I like to volunteer at a few races every year as a way of giving back and paying it forward.
Earlier this year, I had the opportunity to volunteer at the Safety Harbor and Orlando Best Damn Race events and it's been super rewarding. I chose to work the finish line. I got to the race well before the runners. It was dark out! I was set up with the finish line volunteer crew and we sipped our coffee and yawning and starting the day. The Race Director treated us to donuts!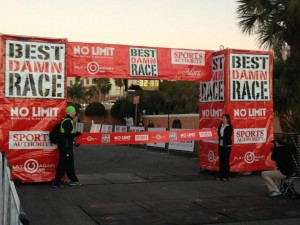 At the finish line, we were in charge of taking care of the medals before we got to pass them out. The medals are often individually wrapped so getting them all unpacked in time is often a rush of organized chaos. Those medals don't just magically appear at the finish line!
In addition to medal unpacking, I help set up the finish line water by dumping cases and cases of bottled water into lined garbage cans. You have to be strong to volunteer at the finish line. It was a workout!
After the finish line was all set up and ready to go, we patiently awaited the start and made sure the timing clock was good to go. We waited for the first runners to finish and all oohed and ahhed at their incredible times. I was fortunate enough to hold the finisher's tape for the first male and female runners to come in. It was a blast to see them flying through to win. And while I loved seeing the winners finish, I really loved seeing first time runners cross the line. I got hugged by so many runners as I gave them their medals and it was an awesome feeling. I saw friends cry with each other over a shared joy of accomplishment and I saw families cross the finish line holding hands.
If injury ever sidelines you, you just feel like giving back, or you want to experience the other side of running, you should volunteer your time to a local race. You will be more rewarded than you can imagine.