The following guest post is from our Best Damn Ambassador, Caitlyn Connolly.  You can follow her blog at Live.Sweat.Sleep!
---
Better late than never…
And don't they say you save the best for last?
As a Best Damn Race ambassador, it dawned on me that I still had not written a recap for BDR Safety Harbor — and being apart of the BDR Bachelorette weekend!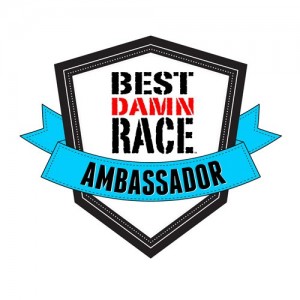 Patrick and Tori are one of the cutest couples I know. He proposed at the finish line of Ironman 70.3 Augusta, their engagement pictures involved a tri bike, and they broke through finish line tape to enter their reception
 (guys, propose to me at a finish line and I'm all yours, lol).
As you can tell, fitness & running are a big part of Patrick & Tori's life, so it only made sense that Tori included a race for her bachelorette weekend.
One of the things I love about BDR races are the distances.
They offer a 5k, 10k, the 5K/10K Challenge, and a half marathon — participants of any fitness level can join! This attribute worked perfectly for that weekend; since not all of the ladies joining for the weekend are crazy runners like Tori, we had options with BDR.
The weekend started with a quaint dinner in Safety Harbor, fueling up for our race morning.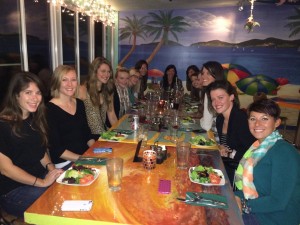 For this particular race, I had decided to run the 5k and try for a PR. At the time, Tori was marathon training (the new husband and wife were running the Paris Marathon on their honeymoon), so her and a few other ladies started early with the half-marathon.
The buzz created by BDR that morning was exhilarating — regardless of the time that morning, you were able to see runners made their final turn to the finish line. I chatted it up with these two ladies, checked my bag, and headed to the start line. 
I had been itching for a PR lately, so I gave it my best shot. 
the finish shoot & my hair whipping in the wind with my speed…
Loved the course, as I knew I would; most of it was along the water and through the quaint neighborhoods of Safety Harbor. The water stops were positioned perfectly along the course and there were quite a few spectators & cheerers along the course too! 
Ran into this pretty lady…
Who knew we'd be so alike and such good friends a few short months later??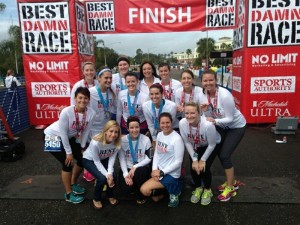 And needless to say the Best Damn Bachelorette crew was pretty popular — we even had some paparazzi! 
The BDR races worked out so well for all of the Bachelorette crew — everyone had a fun race! We took full advantage of the after-party before lounging at the pool for the afternoon. 
Of course, even though we were all up early to run — we clean up well! 
[I seem to be the only one that dislikes shirts]
The crew of ladies hit up Ybor for sushi & a few adult beverages.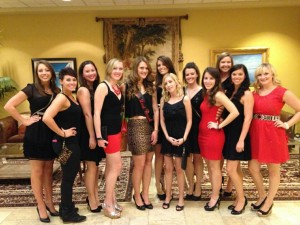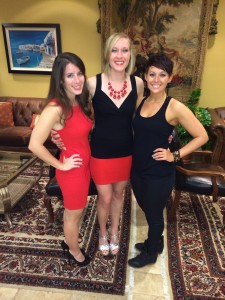 My St Pete ladies, Rose & Meghan
– Packet-pickup is super easy and convenient with multiple locations –
– Awesome bling for every race distance –
– When registration opens, you can get in for as little as a $1! –
– All over Florida, in chronological order:
Cape Coral, Jacksonville, Safety Harbor & Orlando –
– It's a race by runners, for runners –
[confused on that last one? Do one and you'll see what I mean 😉 ]
– Kick a$$ after party with music, food, drinks and vendors –
– Easy registration process –
– You can find the rest here: www.bestdamnrace.com –
And I did save the best for last — me & the beautiful bride.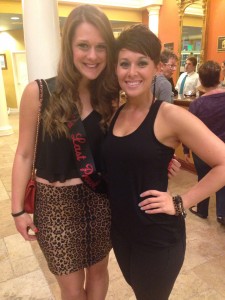 Have you done a race with a wedding party?