The following guest post is from our Best Damn Ambassador, Vanessa Reed.  Vanessa lives in beautiful Jacksonville, Florida and will be running the Best Damn Race Half Marathon again! Vanessa is one of two ambassadors that has completed all of the BDR half marathon events since series inception.  Keep up the streak Vanessa!
---
Short overview of my life in the past year.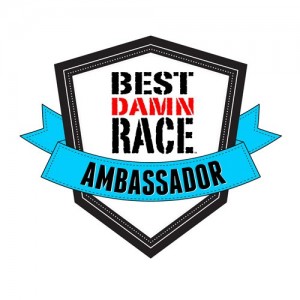 I am going to make this short and sweet. 
This past year has been the most rewarding year I think in my whole life.  In November of 2013 I married my now husband Sherman Reed.  He is the most amazing man.  He has brought so much joy to my life.  With that joy I now have 4 step children, Aaron, Lauren, Morgan and Dawson and a step grand daughter, Aubrey. Aaron and Dawson live with Sherman and I along with my two crazy dogs Bella (Not like Twilight) and Gucci (Like the purse). Sherman has always been active but really started running because of me.  He always says now that he caught me he can stop running (not really honey…but I will let you believe that!  LOL) We have embraced the love of Crossfit and by embraced I mean you should see our garage.  We have everything that you could need but a rope for climbing.  I have to hand it to my husband because what we didn't buy he has made.  Very ingenious of him!  Sherman has completed his Level 1 Crossfit Certification and I am getting ready to go through the course in October.  We hope to start small and build up a Crossfit gym in the Mandarin area of Jacksonville really soon!  
In the midst of getting married, running races and life in general, I decided that it was time to get ready for a Figure Competition.  Sherman has been amazing through this with me.  I am now 5 weeks out and I as ready as I will ever be!  I think that is another topic all together!!!  More to come!