It's race day and, as you are running, you happen to see the photographer. This is going to be a great picture. You look good, feel good, and the wind is blowing through your hair. For a moment, you are the star of the race. Then it happens – race photos are deployed. OMG is that me? Where's my perfect photo, the perfect stride and wind flowing through my hair?
Time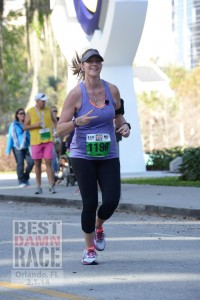 To Fight Back:
Tip 1: Never hide your bib. Often times race photos are organized by bib numbers. Remember not to wear things (sweatshirts) over your bibs. If you must wear a sweatshirt or some other shirt over your race shirt, pin your bib to your shorts.  Don't put your bib in your pocket.
Tip 2: Don't pin your bib on your back, side or butt. No one photographs your backside. As awesome as your butt may be, there will be no images to view, front or back. In addition, we often see bibs people placed on their side. This also makes it difficult to identify you in the photo. Awesome tidbit: You can use the race bib to hide some trouble areas that may not be so flattering, just keep it in the front and visible.
Tip 3: Don't stop your watch right at the finish line. We get it, you PR'd and want instant gratification, but that is why they "time" the race. Stopping your watch precisely at the finish line causes you to put your arms right in front of your bib, making you, and subsequently your photos unidentifiable. Don't let your photos be orphans.
Tip 4: Find the cameraman and run toward them. Some of the best photos of people come from right in front of the camera. The cameraman is snapping photos at lightning pace, if you are right in front of him, you are more likely to get that great shot with your eyes open and mouth shut.
Tip 5: SMILE!!!. YES!, we know you are in pain, but remember you paid to do this. Act like you enjoy it. A smile can make all the difference in the world and make you look a little less dead, or worse, constipated.
Tip 6: As you approach the camera, over-exaggerate your stride and pick up your legs. We know they feel like bricks, but if you don't pick them up, you will look like a death-defying speed walker.
Tip 7: If you wear make-up, wear some make-up. The old saying nothing new on race day goes the same for photos. Women, If you wear make-up, wear a mild version (no Tammy Faye Baker or Joker impressions). If you do your hair, brush it or put it in a cute ponytail. If you hop out of bed and into your sneakers, your photos will look like a sweaty person that hopped out of bed and put on their sneakers. Men, do whatever it is you do to look presentable.
Tip 8: The YES! pose. Crossing the finish line is AWESOME no matter what your time. Be proud, throw your hands in the air and scream "YES!". Trust us on this one!
To claim your free race results and photos courtesy of Best Damn Race and Make YES! Happen visit: makeYEShappen.com/Event/View/1